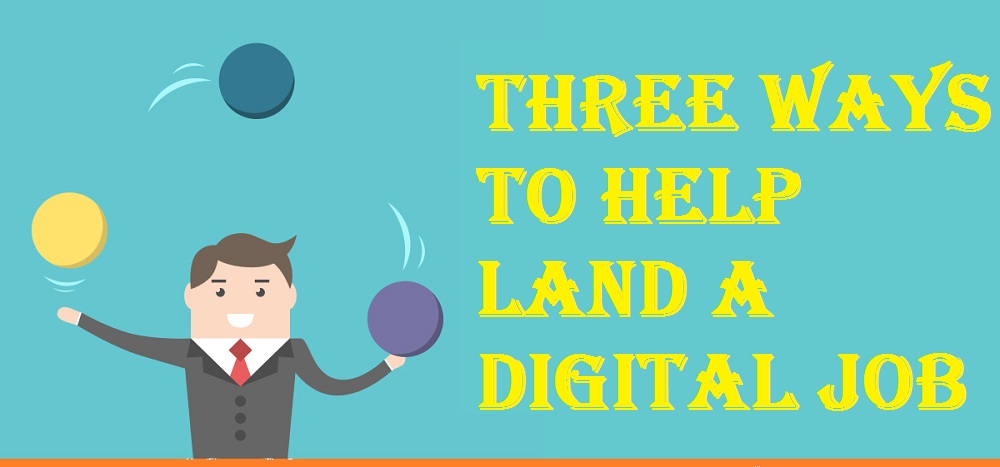 The massive digital market has opened up a whole new world of opportunities. Not just for companies in terms of sales and marketing, but also highly skilled people looking for work in the industry. Most organizations are wanting to get in on it, maximizing their use of the web and social media to raise their profiles and to drive up revenues. It's not just a case of hiring external consultants to do it now; there are lots of dedicated job opportunities appearing with companies who are keen to get the most out of digital, but at a competitive price. So, if you're looking for work in this industry, here are three ways to help turn you career goals into reality!
Skill-up!
Depending on what stage of life you're at, you'll want to think about getting some formal training or experience to develop your digital skills. You can do this through all sorts of options, ranging from dedicated university courses to less formal and shorter, workshop-style training to get you up to speed. Potential employers will be looking for various digital skills, depending on the job you're focusing on, including text and video content production, web design and SEO, digital marketing and commerce and so on.
You could also pick up the skills you want 'in-house' if you're already working within a company. Maybe, for example, you are already a marketing expert but want to incorporate much more of a digital element now. Picking up the experience in-house could help you do your existing job more effectively and help you with any future internal job applications.
Get your resume ready
When you're looking for a job in digital, you need to stop for a minute and think about it all from your potential employer's point of view. They'll be wanting to know why they should take you on, how well qualified you, what experience you have, and what kind of person you are as an individual. Wage expectations will also come into it.
The point is when you're thinking about putting an application in, make sure you get together a great resume and cover letter that really 'sells' you as an individual. Have a good look at the job description in hand, and tailor your application around what they are looking for. So, for example, if the digital job requires video content skills and you've worked in film and video before, then highlight any shooting, editing and compression skills you may have. Have a look around on the net for some tips; you can find inspiration for all sorts of CVs including a web graphic designer resume.
Focus your job search
When you're looking to land a job in the digital industry, really focus in on what it is that you want to do so you can tailor your search and focus on the companies that matter. You'll be wanting to take into consideration the location of the job, whether you're best suited, whether the role will give you a challenge and development opportunities and, in addition, pays you the right level of salary for where you are in your career. Be ambitious, but don't set your sights so high that they are unrealistic.
Have a good look around on the net for job opportunities, do loads of research about potential employers and go to any interviews armed with lots of digital ideas and suggestions for what you can bring.