One of the novelties to which Google gave more hype during his presentation of Google Pixel and Pixel XL is Google Assistant, a direct competitor of Siri and Cortana. During the event, we saw how a kind of rather fluid conversation was held in which the assistant took into account what had been said previously.
This is an achievement of which they were proud, and that could make a series of questions within the same context with some fluency and Google Assistant understood them without having to make continuous reference to the subject (for example, if you want information about a famous person or A monument of a city).
The intention of the Mountain View is that we have at all times an assistant to ask for information, but this can hit the "shame" of many people and go talking to a phone and it will respond. So, will this improved assistant get our phones up and out?
Google Assistant wants to emulate people slowly
One of the most interesting features of Google Assist is the flow of conversations between a person and the wizard and can keep track of what is being said. For example, you can ask who is a famous character and, after the answer, if you ask his height, the wizard knows that you mean that particular peronage.
Even, in some ways, it can be said to have some sense of humor, being able to respond in accordance to the question or request, whenever able to understand it. It will not be strange that I can tell you a joke or answer the question of who your father is and all those questions we ask in cases of extreme boredom.
In fact, in the video you can see a little above, in which a comparative is Siri iOS 10 vs Google Assistant found in the Pixel and Pixel XL, we see how the latter shows a greater ability to follow the thread Of a conversation than Siri, showing the work that the great G has been doing all this time.
Why we should not have any qualms about using our assistants?
Now let's talk about Google Assistant, Siri or Cortana, all these assistants have more than enough to show a remarkably effective maturity. The problem would be rather in us, the humans, that we find that it gives us some objection to use them in the street.
Of course, if we speak openly on the phone with someone else, and even some talk loudly about personal matters, why cannot someone ask your assistant about an address or information of an establishment? What most embarrasses us is that it is a machine, not a person on the other side that responds to us.
Therefore, since we will talk directly to our phone, we should have no qualms about using the wizard that we like, without that often are more accurate than any person you ask (especially if it is a address). Surely on more than one occasion can get you out of a hurry.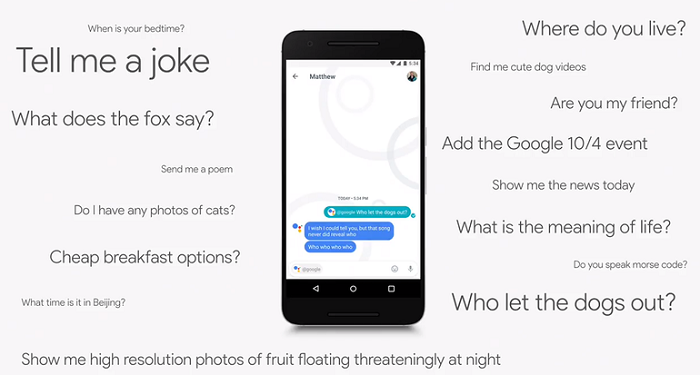 Its use, moreover, is very comfortable, just having to press a button (depending on the operating system) and talk, getting rid of typing what we want. They can also be very useful if, for example, you hear a song for the first time and you want to know how it is titled, the artist, etc.
In short, they are instruments with a great power that many people (although less and less) are wasted by shame. Will Google Assistant then have us talk to our mobiles without a person on the other side? First it will have to leave that exclusivity, expand to other terminals and then we will see the answer.
We cannot lose sight of other assistants who may be on the way in the future, as they could help more and more people use their assistants as they gain more and more useful characteristics. Are you the one who uses the assistant for something more than asking you to tell jokes? Do not stop to comment on this topic.