Want to create a stylish ecommerce website using WooCommerce & WordPress but don't know which theme to choose?
In this article, we'll look at some of the best WooCommerce WordPress themes around to help you choose one that suits your needs.

Bear in mind that although WordPress is great for ecommerce, you'll need to install an ecommerce plugin first. The most popular WordPress ecommerce plugin is WooCommerce, and all the themes in this article are compatible with it.
1. Electro ecommerce theme
If you're selling electrical goods of any description, the Electro theme is well worth your consideration.
It's responsive, which means it looks great no matter what device your customers are using.
Electro also comes with comprehensive support documents and video tutorials, so you can learn how to get the most out of the theme.
You can see a live preview of Electro here.
2. Flatsome ecommerce theme
Flatsome bills itself as a multi-purpose ecommerce theme, so it's worth a look no matter what kind of product you're selling.
The standout features of Flatsome include great loading speeds and compatibility with WordPress's new Gutenberg editor, which means you can create even better looking layouts for your site.
You can see a live preview of Flatsome here.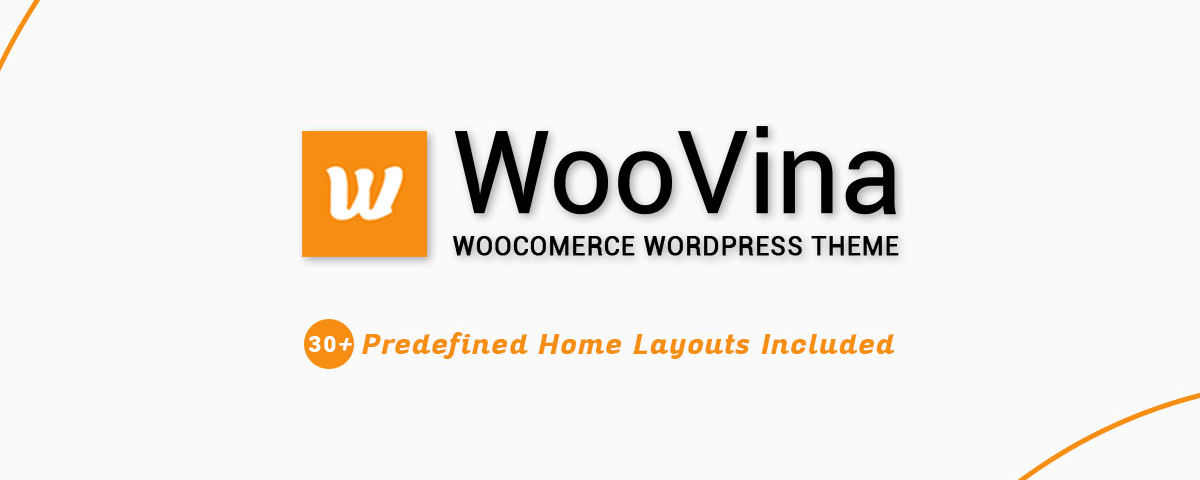 3. WooVina – Free WooCommerce WordPress Theme
WooVina is an exceedingly versatile ecommerce theme and although it does offer a free version, to make the most of it you'll probably want to consider one of the paid options.
One of the biggest selling points of WooVina is that it offers a range of "child themes", which are aimed at serving particular business niches.
This, plus the customization options, mean that you can get your site looking exactly how you want it.
With 40+ pre-built websites with one click import feature, you can import any demo and start your website within 5 minutes. WooVina is the best free WooCommerce WordPress Theme for you!
You can explore the demos offered by WooVina here.
4. Neigborhood ecommerce theme
Neighborhood is another multi-purpose ecommerce theme, one that offers slick and clean layouts.
It's based on the Swift Page Builder, so you should be able to get your site looking how you want it quickly and easily.
It also promises a responsive design that works on all devices and it's also touch-optimized, so visitors will have a great experience no matter how they visit your site.
You can see a live preview of Neighborhood here.
5. Shop Store ecommerce theme
Looking to launch your ecommerce website on a very tight budget? Then you should consider Shop Store, which is the first of three free themes in this article.
It may not have the bells and whistles of the more expensive themes we've looked at so far, but it looks good and it will let you get your site up and running without any fuss.
You can see a live preview of Shop Store here.
6. Rife Free ecommerce theme
Rife Free is our second free theme in this guide and although it's basic, it will still let you get your shop online.
Rife Free works best with just a handful of products, so it's great if you're running a small store, or are planning to start small before expanding.
You can see a demo of Rife Free here.
7. Shop Isle ecommerce theme
Shop Isle is the last of the free ecommerce themes we'll look at in this guide. Like the others, it doesn't offer many bells and whistles, but it still gives you a cheap way to set up a nice-looking ecommerce site.
Its photo-friendly nature makes it especially suitable for fashion retailers.
You can see a demo of Shop Isle here.
8. Shoppe ecommerce theme
Shoppe is another ecommerce all-rounder. This one offers different "skins" which let you change its look to one that best suits your business.
It also has a drag and drop builder, which means that you should be able to build your site quickly and easily.
Other features include social media integration and a selection of add-ons which allow you to add features such as maps and progress bars to your ecommerce site.
You can see a demo of Shoppe here.
9. MinShop ecommerce theme
The last of our themes is MinShop. As the name suggests, it has a minimalist feel to it, so it's great if you have a small range of products and want a site that will give them space to breathe.
It also comes with a drag and drop interface to help you build your site with ease, and it offers everything else you'd expect from a good ecommerce theme, including responsive design.
You can see a demo of MinShop here.
Can't find an ecommerce theme you like?
If you're struggling to find an ecommerce theme you like and you aren't yet fully committed to using WordPress as the platform for your website, then take a look at Pre-Built Websites from WooVina – it allows you to get an ecommerce site up and running quickly and easily, and there are plenty of templates to choose from.